"
Oh, I wish my life went through the same thing as yours did.
"

—Kresnik, to Jamie
Kresnik
Titles

Living Miasma (Pantheon accolade)
The Crimson Knight

Full Name
Nickname

Nick
Smokey (by Sherman)
Cressy
Smoking Hazard
Anti-Trollhunter (by Jamie)

Race
Weapons

Balachko (Sword)
Anti-Cape
Mist Projection (via Balachko)

Gender

Male

Age

28

Homeworld

Earth (A.R. No. 000108)

Nationality

American

Traits

Handedness

Ambidextrous

Complexion
Height

6'2

Eye Color

Reddish-Brown

Professional Status

Affiliation
Occupation

Pantheon Inquisitor

Personal Status

Status

Alive

Relative(s)

Spoilers

Jim Lake Jr. (Father)
Claire Nunez (Mother)

Likes

Fantasy novels
Edgar Allan Poe and his works
Fighting

Dislikes

Cliches

Hobbies

Writing
Making poems & haikus

Media

Voice Actor
Kresnik is a recurring antagonist featured in Riftwalkers. An enigmatic figure within Pantheon's elite circle of Inquisitors, what is known about him is still left in the dark besides his sarcastic penchant for morbid humour and his reputation amongst the organization's forces as the "Living Miasma".
Click here to see his true identity
He is actually an older, more experienced, and sullen version of
Jamie Lake
hailing from an alternate timeline where the events of
Wizards
never happened. His struggles as a human born of Troll blood, combined with his growing disillusionment towards his parents' idealism, especially Jim's, drove him to a dark path. Four years before the series, he murdered his own father and subsequently joined
Pantheon
while on the run from the force and the other Trolls.
Appearance
Kresnik comes across as a tall, physically built figure clad in crimson armor.
Click here for how he looks like outside of his armor
Outside of his armor, the alternate Jamie looks identical to the real Jamie if Jim remained as a half-Troll. He has pale blue skin having runic markings prominent in certain areas, such as his cheeks, shoulders, arms, and legs.
Personality
In contrast to his reputation, complimented by Aeon as a ruthless killing machine, Kresnik is generally easy-going, always humoring his enemies or would-be prey with sarcastic remarks about their situation together.
Click here for Spoilers
His jest and eccentric attitude veils his darker and sinister mindset, contrasting him with Jamie's mischievously arrogant nature belying his gentle and kinder side. Tired of his father's idealisms, which he blamed it for the current condition, he eventually snapped and eerily declared in a sneer manner that anyone sacrificing what they desired for the greater good is a fool, Jim included.
Equipment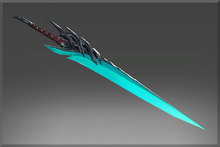 Balachko
A single-edged sword Kresnik wields as his primary weapon, Balachko is also noted for its glowing edge; an indication of its blade being made up of condensed mist. Balachko gives its wielder the power to generate and control mist with immense versatility. The sword also has supernatural cutting power, as Kresnik was able to cleave vehicles with little to no effort, even if said vehicles were being thrown at him.
Powers & Abilities
Supernatural Condition: Kresnik demonstrates a number of feats that places him somewhere leagues above what an average human can do without any signs of exhaustion.
Strength: Kresnik left a wall cracked after an enemy he punched with brute force was sent flying, being slammed against the said wall with great impact. He nearly crushed Corrina's wrist when he had her restrained, easily kicked a wooden table that it was sent airbone by the impact, and cut a stone wall in half with the swing of his Balachko.
Durability: Kresnik barely felt a thing after a combined assault of Jamie and Corrina was being stormed upon him, merely responding by dusting off his shoulder pads out of disappointment. He seems visibly okay after taking the damage coming from larger and heavier objects crashing down on him.
Speed & Agility: Kresnik is noticeably fast, even faster than Jamie, who is known by his team for his natural level in speed.
Magic Immunity: ....
Swordsmanship: ....
Mist Manipulation: ....
Weaknesses
....
Inspirations
Community content is available under
CC-BY-SA
unless otherwise noted.