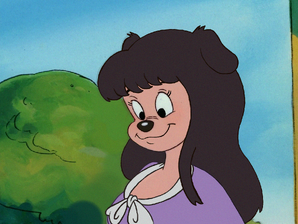 Harmonie Goof is a Goof Troop fancharacter and an anthropomorphic dog, created by Nessy.
She's a children's book illustrator who rented a room at Goofy's house, and often seen at work. She tends to make a mess of her room, leaving paint bottles and splatters everywhere.
NOTE:
This page is not free to edit.
History
See also: The Tenant.
When Goofy and Max start to have financial difficulties, they decide to rent out a room. Harmonie shows up with interest, and Goofy immediately falls in love with her. He shows her around and helps her settle down, but keeps making comedic blunders, worrying Max. He fears his father's behaviour will make Harmonie decide not to stay, losing their chance of income.
At the end, Harmonie reassures him and says to feel good about the place and them. Goofy and Max find out she's very clumsy herself.
Personality
Harmonie is a 25 year old woman with a rough past as an only child. Her parents didn't take care of her, so she never learned how to socialize and had to spend most of her time by herself. She grew up very shy, but grows to love Goofy and Max, who are her first real family. She's additionally very clumsy, but kind.
Appearance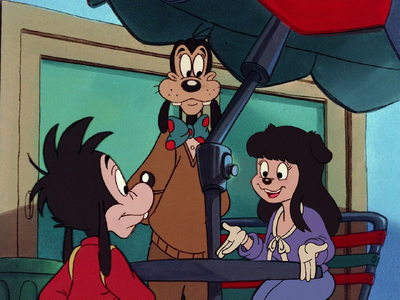 Harmonie has long, dark-brown hair with bangs, and two small, floppy ears on top of her head in the same color. Her eyes and nose are black, her skin pale.
Trivia
Max gives her the nickname "Mochi", because she's a bit "round and sweet" like one, or so he claims.
Harmonie works for several different authors, but her dream is to write her own book about a story starring a family of raccoons.
Harmonie's favourite flowers are sunflowers.
Harmonie's afraid of thunder, spiders, and losing Goofy and Max.